Convert EML to Outlook Using the Outlook Import Converter
Friday, June 15, 2012 @ 11:06 AM
Are you looking for relevant information on using Microsoft Outlook importing tools for smooth email conversion? Well hopefully the following details will point you in the right direction.
How many times have you been sent an email from a friend or business colleague that, you were unable to open or had to spend countless time trying to configure the text to make it readable? I think nearly all of us have been in that situation at one time or another and it can be so frustrating especially for businesses, were time is at a premium.
There are specific tools to convert eml to Outlook in the marketplace that can get rid of this problem instantly and allow you to easily convert eml to outlook or other formats including emlx and msg without any problems and let you read any email or file attachment and get on with the rest of your day.
What type of tool can convert EML to Outlook?
The Outlook Import Converter is an application to which encodes file formats including eml, emlx and msg and converts them to outlook without any fuss. This great encoding tool is very useful for both the home and office and gives you the piece of mind knowing that, imported emails and files can easily be encoded from most formats to make them understandable in outlook and you don't have to waste valuable time trying to encode the messages yourself.
There are many benefits in using this type of package including importing various emails and files for conversion, receive archived messages, structuring facility enabling you to organize and time stamp everything and a filtration system allowing you to set up file and attachment size limits for a smoother operation.
This superb piece of kit not only allows you to convert eml to outlook, but has a whole host of other impressive features in order to import eml to outlook, proceed the eml to pst mail transfer and make the process of receiving emails much more simplistic. You can use this effective tool on both 32 and 64 bit versions including Windows 98, 2000, XP, Vista, 7, Outlook 98, 2000, 2002, 2003, 2007 and 2010 operating systems and is a product which stands out from the rest and one to truly savor.
How to convert eml files to Outlook format?
It is very easy. You may use the download page to obtain the eml to pst converter tool. Or use the direct download link  from here. After that you may run the setup and install it to your computer. Make sure that Outlook is installed and Outlook User Profile is configured there. Start the Outlook Import Converter and specify the folder where your email files are stored: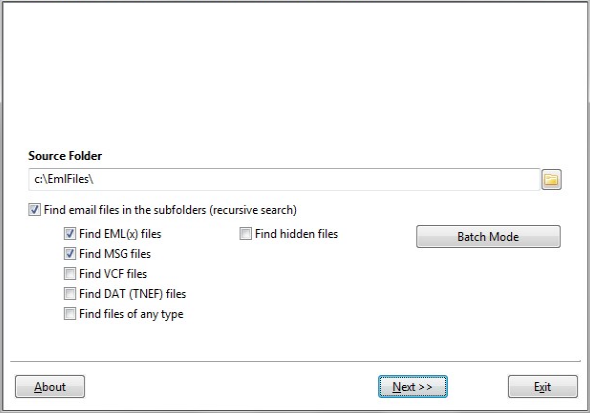 Run the Outlook Import Converter and point it to the source directory with EML files
Press Next button and wait for the end of the eml files search
At this step you may select or deselect several eml files which you don't want to convert to Outlook
Press Next button and configure eml to outlook conversion options and filters. you may skip this step by pressing the Next button
Now you may press Start button to convert selected emails to the Microsoft Outlook
Wait for the end of processing and inspect the result.
It is very easy and fast way to make the conversion of eml files to MS Outlook. Please ensure that Microsoft Outlook is closed and not used by another software before you begin the conversion. The tool may work if the Outlook is launched but it is still recommended to close Outlook prior to start the conversion.
What tools can I use to convert eml files to Outlook?
There is a lot of eml to outlook converters on market. For example you may find one at http://www.emltopst.com site which is the first eml to pst converter that appears on market. It still delivers a good results especially for the batch email conversion. But it supports to work with 32-bit Outlook editions only. Or you may have to look at another eml to outlook converter which is the most usable tool for today, it is Outlook Import Wizard from http://www.outlookimport.com
Considering of eml to pst Outlook conversion you may found a lot of tools. But you should choose the quality one which will make  your conversion flawlessly.